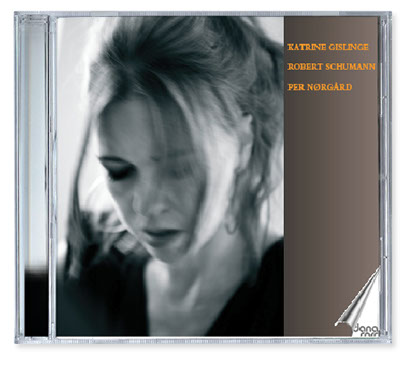 ROBERT SCHUMANN
(1810-1856)
KREISLERIANA,
Op. 16 (1838)
Phantasien für das Pianoforte
Tilegnet / Dedicated Frédéric Chopin
PER NØRGÅRD
(b.1932)
Grooving (1967-68)
Turn (1973)
Unfolding (2012)
Tilegnet / Dedicated Katrine Gislinge
KATRINE GISLINGE
Steinway Model D
Danish pianist Katrine Gislinge was the first Danish pianist ever to record for Deutsche Grammophone and she is undoubtedly one of the leading pianists of her generation. Her new Danacord CD features the Schumann "Kreisleriana" with piano works by Per Nørgård, "Unfolding" being dedicated to Katrine Gislinge.
The booklet has a long interview with Per Nørgård and shows painting by renown painter Maja Lisa Engelhardt. A unique CD in every possible way.
Katrine Gislinge, var den første danske pianist der indspillede for Deutsche Grammophone og hun er utvivlsomt en af de førende pianister i sin generation. Hendes nye Danacord CD indeholder Schumanns »Kreisleriana« og klaverværker af Per Nørgård, her iblandt »Unfolding«, som komponisten har dedikeret til Katrine Gislinge.
Bookletten har et langt interview med Per Nørgård og viser et maleri af den kendte kunstner, Maja Lisa Engelhardt, som også har layoutet forsiden til CD'en.
En unik CD i enhver henseend.
Nomineret til p2 prisen
Nominated for Danish
Radio Broadcasting prize